AndrewArcade
Biographical information
Full name:
Andrew Garcia
Birthdate:
November 15, 1990
Age:
27
Residence:
Washington (Currently) California (formerly)
Occupation:
YouTuber and Twitch Streamer
Other information
Nickname:
Pizza
Alias:
AndrewArcade

HeadButtArcade Steven Universe

Gender:
Male
Hair color:
Brown
Eye color:
Pizza
Height:
Pizza
Relationships
Marital status:
Pizza
Significant Other/s:
Shane from Stardew Valley
Family:
Pizza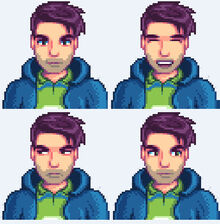 Andrew Garcia, also known as AndrewArcade, is YouTube and Twitch a gaming commentator. He plays many games, mainly The Sims franchise. He is known for his The Sims 3 and it's expansion packs playthroughs as well. Andrew used to upload under the alias of HeadbuttArcade.
Source: AndrewArcade Website
Andrew makes Let's Plays on YouTube and livestreams on Twitch under the username AndrewArcade. He used to be known as HeadbuttArcade in 2009-2010 but around that time he deleted that account.
In 2012, he decided to start making videos and stream again under the username Andrew Arcade. He started doing all these videos and streaming back in 2009. 
Personal Life
Edit
Source: AndrewArcade Website
Andrew is Mexican and 27 years old. His birthday is November 15, 1990 and has the zodiac sign of Scorpio. He is very fond of the color red and he enjoys eating meat-lovers pizza, which became a very iconic object whenever there is a fan-art. Andrew has also come out as gay and is much happier now that he is living true to himself
His mother told Andrew that pizza was one of the first words he learned to say as a toddler. He is originally from California, in which his family including his pet Pomeranian named Mikko lives. When he moved to Utah, Andrew had a roommate who went by the alias Charlie Brown, in which some can hear during his live streams and videos.
He planned to live in Utah for two years and then moved back to his hometown. Since the cost of living in Utah is substantially lower than it was in California, he is trying to save up as much money as he can so that when he moves back to California he can live comfortably.
After years of living in Utah, he announced that he is moving back to California and couldn't upload any videos during most of the packing as he was busy. But now, he has settled down and is ready to record and upload more videos as he can.
Andrew revealed himself as a major fanatic of Nintendo franchises and games. However, this hasn't stopped his fondness of The Sims franchise.

He is also a fanatic of the video game Persona 4, he has played it in a let's play once before, but did not complete it due to the deletion of his YouTube channel.

He revealed the following things on his Official Website

Andrew is very fond of listening to the recording artist Lana Del Rey and watch the television series Orange is the New Black on Netflix
His favorite expansion packs of the whole The Sims franchise was Makin' Magic and Supernatural.
He enjoyed doing the playthrough's for Ambitions, Late Night and Supernatural. 
He didn't enjoy recording the playthrough for World Adventures, as some of the adventures he had done there was finished during his time playing with his off-screen family. It also led the playthrough to end horribly.

According to his introduction in The Sims 3, Andrew's favorite sandwhich is Turkey and Ham alongside with Swiss Cheese.
Andrew and his family originally had a nice, big house but lost it due to a bankruptcy.
When Andrew moved out of his parents house, He lived in a apartment in California, He ended up getting insomnia and moved back to his parents house.
Andrew cannot always record due to his family always being home. When everyone is gone, One person is usually home with Andrew.