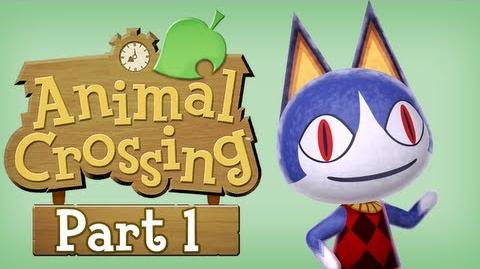 Animal Crossing: New Leaf 
is an Animal Crossing: New Leaf playthrough series created by AndrewArcade. The series began on June 9, 2013, and ran for 38 episodes before ending on April 24, 2014. The series follows the life of Mayor Andrew, who is growing and raising an city named Arcadia.  
Characters
Edit
Most Notable Characters
Edit
Isabelle - She is the secretary of Mayor Andrew, and the first villager to ever interact with Andrew. She appears to be a yellow dog with some of her hair tied with a red tie. She wears a green sweater and a blue skirt. She often carries around a clipboard with a pen.
Sprinkle - She is a peppy penguin who is very incessantly friendly and excitable towards other villagers around the village. Sprinkle is the only villager who remained in Arcadia ever since the first episode of the series, which made 
Bunnie - TBA
Julian - TBA
Tammy - TBA
Rudy - TBA
Marcie - TBA
Stitches - TBA
Most Notable Villagers that Moved Away
Edit
Nan - She seems nice to most of the villagers and Andrew. She seems to be very caring for the town with being on alot of ceremonies. Nan was one of the villagers that moved away from Arcadia.
Drift - He is a jock frog around the town and is one of the early villagers in the series. He will appear slow-witted and absent-minded when talking about deep, meaningful things. Drift was one of the villagers that moved away from Arcadia.
Robin - She isn't very social because of she's mostly seen in her house, but when she's outside she isn't friendly towards other villagers. She especially very rude to Andrew, by usually saying that his outfit doesn't look good. She does go to alot of ceremonies for an unknown reason. Robin is also one of the residents that moved away from Arcadia.
Angus 
Benedict 
Harry
​EpisodesEdit
Others TBA, I'm working on it (watching all the episodes again)
Ad blocker interference detected!
Wikia is a free-to-use site that makes money from advertising. We have a modified experience for viewers using ad blockers

Wikia is not accessible if you've made further modifications. Remove the custom ad blocker rule(s) and the page will load as expected.