Cheryl Montgomery
Biographical information
Gender:
Female
Gender Pronoun:
She/Her
Life State:
Sim
Age:
Teen
Status:
Alive
Residence:
Willow Creek (former); 930 Medina Studios, San Myshuno
Occupation:
Unemployed
Club(s):
Critter Catchers (former)
Traits
Traits:
TBA
Relationships
Realtives:
*Tricia Montgomery (mother)
Marital status:
Single
Romances:
*Penny Pizzazz
Friend(s):
*Athena Lovelace
In-Universe
Appears In:
*The Sims 4: Get Together
Cheryl Montgomery is a Sim who's part the cast in the Get Together, Kids Room and is a main character in City Living Let's Plays.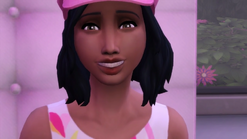 Character
Edit
Personality
Edit
As A Child
Edit
As a child, Cheryl seemed to be a very hot-headed and bratty little girl, raised with a silver spoon in her mouth, however, she also demonstrated a child-like wonder and kindness.
Appearance
Edit

As A Child
Edit
As a child she was small and slender, with beautiful black hair, usually tied up in the back, almost always sporting a tiara. She dressed mostly in black and neutral colours.
As A Teenager
Edit
As a teenager, she sports short black hair, styled in a messy do.
In Family Feud, it's revealed that Tricia Montgomery is pregnant with a little baby, much to Archer Montgomery's displease, as he hates children.
Later, inWinter in Windenburg, Cheryl unknowingly is the catalyst for the conflict. When Tricia's waters break in the middle of her pre-Christmas soiree, she needs to be directed to an hospital, where she discovers that her husband Archer had cheated on her long ago, having a kid with another woman. In the same night, Cheryl is born, must to everyone's joy.
She's seen in the background two months later, in Ball & Chain, when Tiffany Montgomery heads into her mother's house to convince to sign for divorce with Archer once and for all. She's taken with Tricia to her new house, owned by Sterling Hoffmann, Tricia's new boyfriend.
She's only seen again in Let Them Eat Cake, has Tiffany pays her mother a visit to both see the baby and also take Tricia off to her wedding with Sterling.
Her birthday part happens in The Cake Crime, where, after Tiffany brings a cake from home just for her, she turns into a child.
In , Xanadu Moreno pays up a visit to Cheryl, who she has heard of through Kimiko Kurosawa, her half-sister, to ask her if she wants to join him in his Void Critter battle club, the Critter Catchers. However, after a terrible day, and scared by Xanadu's alien appearance, she yells at him furiously and expels him from the house.
Years later, in Concrete Jungle, it's revealed that Cheryl has grown into a teenager and moved into San Myshuno with her niece Precious Kurosowa, Kimiko's daughter and old friend, as well as Athena Lovelace, another good childhood friend. She dreams of becoming a famous web celebrity, and no better way to do it but in the social center that is San Myshuno.
Appearances
Edit