Kate Bag
Biographical information
Full name:
Kate Pistachio Bag
Nickname(s):
Kate
Gender:
Female
Gender Pronoun:
She/her
Life State:
Human
Status:
Dead
Cause of Death:
Old Age
Residence:
Sunset Balley (formerly), Twinbrook (formerly), Bridgeport (current)
Traits
Hair color:
Brown (natural), Red (dyed)
Eye color:
Blue
Relationships
Realtives:
Shirley Bag (daughter), Matthew Bag (son-in-law), Garbage Bag (grandson), Plastic Bag (grandson), Mercury Bag (neé Gringham) (granddaughter-in-law), Keely Bag (granddaughter-in-law), Candy Bag (great-granddaughter), Goodie Gift Bag (great-granddaughter), Tea Bag (great-granddaughter), Mercury Bag (great-great-grandson).
Marital status:
Married
Romances:
Douche Bag (husband)
In-Universe
Appears In:
The Sims 3, The Sims 3 Ambitions, The Sims 3 Generations,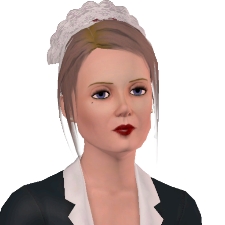 Kate Pistachio Bag is one of the main characters of The Sims 3 series. She was originally a NPC maid on a break in Central Park, but Andrew decided to have Douche Bag enter her life; they married in the original series and had one child together named Shirley in Ambitions.
Biography
Edit
Life leading up to The Sims 3
Edit
Kate Bag was first sighted when Andrew was scrolling around Central Park, in which he assigned Douche Bag to go and have a friendly introduction. After a small chat with her, Kate decided to leave and continue on with her job. But Douche was so desperate, that he stalked her to the house she was working in,
She was then invited to the household, in which Douche and Kate started chatting some more resulting into a date with her. During the date itself, Douche started making romantic moves on her which worked well with Kate and invited her to join the current household, in which she approved to and immediately went back to their home.
Andrew then gave her a makeover in which she had a new redhead hairstyle and dark and heavy makeup. She was supposed to have new clothes, but a wardrobe or a dresser was too expensive for the household funds. Even though she and Douche aren't in relationship yet, she tried for a baby with him whilst touring the theater together. The attempt didn't work because Lara Croft was already pregnant and there was no more room for another sim in household. 
She later moved to Twinbrook and joined the fire fighter profession after being employed for a duration of time. There, she gave birth to her only child and daughter Shirley Bag, whom she raised fairly enough.
Kate then moved to Bridgeport alongside her husband Douche Bag after reaching an elderly stage. She is also reunited with her daughter and met her grandchildren and her son-in-law for the very first time in her life. In the same town, she was buried after dying of old age. 
Physical Appearance
Edit
Kate Bag was shown to have a brunette origin before Andrew dyed her hair to red. She used to wear her uniform when she was an NPC before she revealed her default clothing, where it was a top with a shoulder crop, short jeans and a pair of shoes.
Personality  
Edit
Kate Bag had possessed the traits of a charismatic, neat, flirty, kleptomaniac, and brave Sim. She was shown to be very fond of the color red, her favorite food was ratatouille and her favorite music genre was pop. 
Kate Bag used to serve as a NPC maid, but because Andrew invited her into the current household, she became unemployed and soon forgot about her past experiences as a maid.
She has appeared, together with Douche, in every single playthrough, except for The Sims 3 World Adventures and Supernatural.
Ad blocker interference detected!
Wikia is a free-to-use site that makes money from advertising. We have a modified experience for viewers using ad blockers

Wikia is not accessible if you've made further modifications. Remove the custom ad blocker rule(s) and the page will load as expected.