Let's Play The Sims 4: Get Together - Part 15 (Burn Book) is the 15th Part of the Get Together Let's Play.
When the A Cut Above burn book styled meeting, to help Tiffany with her writing, turns into a house party where everyone's club in invited, Sonya finds herself in a pickle when the presence of the Prisim crew trows away her potential night with Dominic, who unwillingly also reminds her of how her dancing still needs improving, causing her to put on a show on top of the apartement's roof.
Dominic Fryes
Dina Caliente
Nina Caliente
Alice Spencer-Kim
Candy Behr
Joaquin Le Chien
Cassandra Goth
Janessa Drummond
Arvin McGraw
Diego Moreno
Travis Scott
Summer Holiday
Jade Rosa
Wednesday afternoon and Rafa is training on his DJ booth and learning how to compose his own songs, while Tiffany has learned how to write poetry, publishing her own poetry book Little Ugly Butterfly, a satire about the Paragons.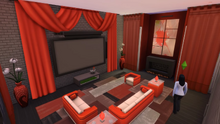 The house has upgrated, since the household has accumulated quite the amount of money, with promotions, Tiffany's and Josh's royalties and the latter's hacking. The apartement now has its own community theater room, which is pretty much the expanded room from before, now full decorated with a big screen, sofas and posters.
Tiffany has an idea. Now that's she's really profiting with being a writer, she decides to throw a little gathering with the A Cut Above in a burn book kind of meeting style, so that her members can help her write, with suggestions. The rest of the gang also arrives home and everyone is stressed.
Up in Tiffany's room, the A Cut Above has their meeting as Tiffany begins writing a new short story, The Story of Eliza Trashcakes and the Battle of Trash Creek, yet another book referrecing the Eliza fiasco, in order to throw some shade at her, and of course Nina and Dina know all that happened so they're a good asset, and since Alice is from Willow Creek, she might know some juicy stories about Eliza.
Slowly, the Paragon meeting turns into a house party, as Sonya, stressed from work but flirty, decides to invite her dance crew over, and so do Rafa and Josh, crowding the house very quickly. While the Pixel Perfect gathers around a just as recently bought arcade machine, the Prisim crew members gather around the movie room, enjoying a good film. Tiffany finishes the book, and with all the ruckus, decides to join the party that's going on and everyone decides to go up to the newly purshased balcony, where Rafa installs his DJ booth and dance the night away.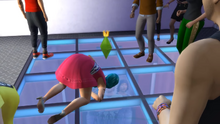 As Rafa learns that Josh isn't a big fan of Candy himself, the rooftop fills and everyone dances to Rafa's tunes. Sonya decides its time to have a dance battle with Dominic, a throwback rematch to the first time they met, but Sonya fails just as miserably looses, failing to do a backflip which she still hasn't mastered. Dissapointed, Sonya decides that it's tonight that she'll do a successfull backflip, and doesn't hold back. In fact, bold Sonya decides to climb to the roof of the apartement and puts on a show, as everyon watches. With a beautiful view over Windeburg's sea and harbour, Sonya is finally able to do her backflip correctly, followed by a show of light, on top of Tiffany's room skyline.
Tiffany and her minions go downstairs to the movie room to watch a movie, The Roaring Vice, but where they go everyone follows, as both Dominic and Sonya see an opportunity to run away from the eyes of the other Prisim members, who wouldn't approve of their relationship, and start watching the movie, but the crew members find their way into the room too, so the movie room soonly crowds.
It's morning and the party has died and Tiffany sells her book to the publisher and has to clean up the messy house, as Sonya is dissapointed that her plans with Dominic were budged and promises that the next day she'll finally confess her love to Dominic and ask him to break up with Moira once and for all.