Family Feud
Season Let's Play: The Sims 4 Get Together, Episode Part 2
Air date
8 December 2015
Episode guide
Previous
Shine Bright
Next
Dance Battle
Let's Play The Sims 4: Get Together - Part 2 (Family Feud) is the 2nd Part of the Get Together Let's Play.
Sonya creates her very own dance club to rival the local cool kids, the Spin Masters, as Tiffany meets with the A Cut Above, her club, giving her loyal minion, Eliza, the Diamond Earrings, an item created by her to simbolize who's closer to her from time to time. When clubbing is over Tiffany heads back to her roots when she pays a visit to her family, where her mother is newly pregnant of another Montgomery.
Sypnosis
Edit
The roomates are hanging out at the El Europa Discoteque, hitting the dancefloor for a Monday evening. Sonya is specially excited about the nightlife, requesting songs and dancing the night away, which isn't enough for her, as she decides to show off her dance skills by making way in the dancefloor just to show her Arm Charm dancemove to the crowd in the disco. She also does a friendly dance battle with Rafa. However, Sonya's real reason why she decided to hit the club this night was to possibly recruit new member for her recently created club, the Sparkle Motion, a dance club to friendly rival the Spinmasters.
Tiffany, in the discotheque, sees an opportunity to start a gathering with her club, now renamed a Cut Above, introducing new member Nina Caliente, Dina's sister, who upon knowing that she had joined the club, begged Tiffany to join too, which she indifferently agreed on. However, Eliza was the first to show up at the club, making Tiffany wonder wether or not she should give her the Diamond Earrings, a feature invented by herself to reward the member of the club that has prooven to be the better friend. Sonya takes a look around to see for any possible awsome dancers, and Jade Rosa catches her eye, with her dancemoves. She approaches her and suggests joining the Sparkle Motion, which she does. With her goal done, Sonya and the roomates go back home, followed by Jade, who doesn't really go with Tiffany's face, due to her infamosity. However, everyone is so tired they immedietly go to sleep.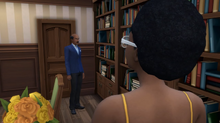 Tiffany, finding she has a few vacation days from her writer career, decides to go visit her family, that has recently moved into Windenburg, and live all the way in the countryside. In the tudor-styled mansion where Tiffany lived in her childhood years, she meets her mother Trisha Montogomery, and her father Archer Montogomery, who is not happy with life. In a strike of wrath, he destroys one of Trisha's childhood dollhouses, after discovering that his wife is pregnant again, since he hates children. Tiffany is not happy with this, and scolds Archer, but soons learns to ignore and spend time with her beloved mother, talking and taking photos together. Before leaving, however, Tiffany gets an umpleasent suprise when her dad walks in on her as she uses the toilet.
Since all her roomates are at work, she decides to hit the old town and visit the library, inviting Eliza too, with the plan to give her the Diamond Earrings, since she is her favourite. She reads some books with Eliza, to enhance her job performance, and then the two go hang out around South Square, witnessing the great artist Maya Papaya, doing her paintworks out or having some beef with a grumpy librarian who was impatient towards Tifanny, after removing the book she was reading as soon as she was finished, comlaining, and then putting it on the floor and stomping it, leaving the library completely. But eventually, the two visit a local café, the South Square Coffee, but Eliza ditches Tiffany, leaving her alone in the café, where she bumps into Marcus and the two chat it up a little bit, as Tiffany waits for Eliza to come back. Luckily, when she does, Tiffany finally gives her the Diamond Earrings, before heading back home.
Back at the apartemen coplex, Rafa has bought a DJ booth, in order to start training so he's able to apply for the Spinmasters, and starts training right away. Sonya also starts training some skills, starting to learn how to paint and do beautiful art, as an alternative for dancing. Josh, however, has started to make plans for a club of himself, Pixel Perfect, a gaming club where gamers from around the close lands can meet and play the hipest video games, and waits for members to join in, after sending the notification. Meanwhile, the group enjoys some pizza, only for Josh to face a rather awkward situation. After spending most of the household funds on the DJ booth and some chairs, he doesn't have enough money to pay the pizza, and the delivery lady warns him about a bill to come his way. However, the household went bankrupt but at least they can enjoy the pizza. While at it though, Tiffany gets a text message from Trisha inviting to hang out at Old Quarter Inn, since she has heard it is Alien Night, and Trisha decides to take the group too, since they're interested in seeing aliens.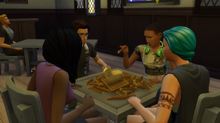 When they get there, however, Trisha bails on them, but that will not stop the group from having a good time, as they decided to play Don't Wake The Llama, which Sonya wins. After seeing some aliens out and about, they go back to the pizza, which had such an impact on their wallets.
Milestones
Edit
Sonya Sanchez creates Prisim.
Jade Rosa joins Prisim.
Tricia Montgomery reveals that she's pregnant again.
Eliza Pancakes gets the Diamond Earrings.