Let's Play The Sims 4: Get to Work - Part 31 (Black Widow) is the 31st Part of the Get to Work Let's Play.
Life and death and love and birth. Diego's alien baby, Xanatu, is finally born, just in time for the long waited wedding of Gwen and Bella, in a special spooky party with costumes and pumpkins, where Gwen prepares herself to preform her black widow strategy. However, the tables turn, when out of the blue, Gwen chokes on the dance floor, prooving that the black widow is indeed someone else...
Bella Goth
Mortimer Goth
J Huntington III
Don Lothario
Cooper Carter
Nina Caliente
Katrina Caliente
Lacie Buckley
Misael Buckley
Kai Neves
Eliza Pancakes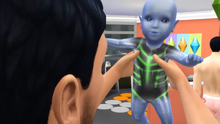 Night at the household and Diego is about to go into labour, but since the Hospital couldn't cope with his peculiar situation, he has to settle on a home birth. With the help of Alfonso, Diego goes into labour and Xanadu Moreno is born, obviously an alien, as Alfonso captures the moment. Diego is suprised of how Xanadu looks, after all he is an alien.
After work, the household is back, but its time for Gwen's and Bella's wedding, at long long last. Diego has baked a mediocre Bonnefetti Cake for the couple and Gwen and the gang heads to a special venue, a Haunted Chapel named The Black Widow, to perform the spooky venue like the two wanted, with Gwen already leaving hints at possibly murdering Bella once the two are happy and married.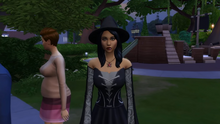 The wedding begins and instead of fancy suits, the guests sport Spooky Day costumes, Gwen is a blue fairy, Kimiko is a pirate, Diego is an austronaut and Alfonso is a pilot. Bella is dressed as a witch, sporting a suspicious black widow necklace on her neck. Additionally, Haleigh walks in wearing the same outifit as Gwen in the same colour, as destined lovers they're meant to be.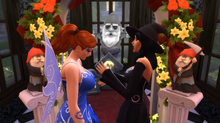 But Bella and Gwen loose no time and get married right away, as their friends cheer, in an alter filled with spooky imagery and death symbolism, more subtle hints Gwen makes sure go unseen. However, most people aren't as interested in the wedding as they are in the party going on in the second floor, getting juiced and dancing with their costumes on, so Gwen calls Bella to cut the first slice on their Bonnefetti cake, as everyone chants and celebrates, even Mortimer Goth in his shady ninja costume.
The celebration is on the heat, everyone's having fun and socializing and, like usually, Gwen decides its best to mock Mortimer, with her cake slice in her hand. She tricks hims, treat or trick style, however, something grimm occurs. Gwen chokes to death in her own wedding, gathering a group of a worried crowd around her, including a completely distraught Bella, or so she sais, and not even the Grimm Reaper shows up, so Gwen doesn't even have the chance to beg for her life, making her die a silent death. Everyone is miserable as Gwen lays in the floor, as nobody expected this wedding to go like this.
Milestones
Edit
Xanadu Moreno is born
Bella and Gwen get married.
Gwen dies.