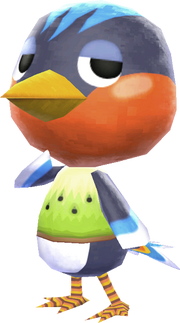 Stats

Gender

Female

Personality

Snooty, unfriendly, unsocial

Catchphrase

la-di-da

type

bird

First appearance

Animal Crossing New Leaf - Part 1 (Arcadia)

Moved out on

Animal Crossing New Leaf - Part 24 (Porter's New Pad)

Last appearance

Animal Crossing New Leaf - Part 31 (Booker)
Robin is one of the original villagers seen in 
Let's Play: Animal Crossing New Leaf
Relationships
Edit
Robin isn't very social because of she's mostly seen in her house, but when she's outside she isn't very nice to other villagers. She's especially very rude to Andrew with saying that his outfit doesn't look good. She does go to alot of ceremonies for an unknown reason.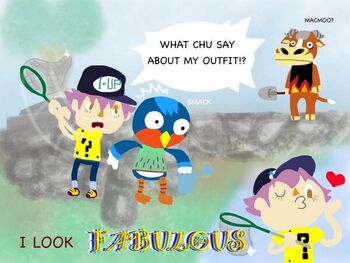 Ad blocker interference detected!
Wikia is a free-to-use site that makes money from advertising. We have a modified experience for viewers using ad blockers

Wikia is not accessible if you've made further modifications. Remove the custom ad blocker rule(s) and the page will load as expected.