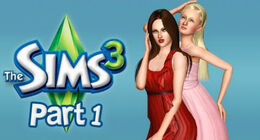 The Sims 3 
is a The Sims 3 playthrough created by 
AndrewArcade
. The series began in 2009, with all episodes being re-uploaded in 2012. The series follows a household of eight (
Douche Bag
, 
Kate Pistachio,
Lara Croft,
 Scout Red, Sniper Red, Sookie Stockhouse,
Paris Hilton
and Yalitza Beyotch) and their adventures in Sunset Valley, the pre-made town for the base game. The series ran for 32 episodes. 
A household of six move into the surburban dream of Sunset Valley, where their story truly begins. Sniper, who wants to become the Leader of the Free World; Lara and Sookie, who were brave enough to serve for the Law Enforcement; Paris, who decided to stay home and serve for her housemates; Yalitza, who becomes one of the most wanted of the surburban area; and Douche Bag, who follows his passion for music and finds his lover.
Main Characters
Edit
This was the very first Let's Play created by Andrew when he still went by the screen alias of HeadbuttArcade. It was also one of the series that was re-uploaded again to YouTube upon returning with a new channel alias.
This marked the very first appearance of the most iconic protagonists around Andrew's channel.
Ad blocker interference detected!
Wikia is a free-to-use site that makes money from advertising. We have a modified experience for viewers using ad blockers

Wikia is not accessible if you've made further modifications. Remove the custom ad blocker rule(s) and the page will load as expected.