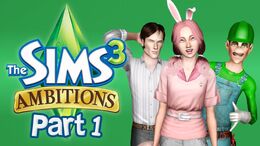 The Sims 3 Ambitions 
is a Sims 3 Ambitions expansion pack playthrough series created by 
AndrewArcade
. The series followed the lives of 
Douche Bag
, his wife 
Kate Bag
, his only daughter
Shirley Bag
and his housemates 
Paris HiltonV2
, 
Luigi Bunny
, 
Yumi Bunny
, 
Bill Compton
and 
Reshawn Bunny
. The series premiered in 2010, and ran for 32 episodes. The series ended somewhere in mid-late 2010.
Synposis 
Edit
Eight ambitious Sims moved to the town that is Twinbrook, where they could discover their hidden talents in different job opportunities. Douche Bag decided to approach the creativity of an inventor, Kate Bag took up the life-risking challenge of becoming a firefighter, Paris became a bizarre stylist for the residents, Luigi found the brave side of him to sign up as a ghost hunter, Yumi explores the mysteries of Twinbrook as a investigator, Bill found interest in architecting and Reshawn starts helping in curing residents as a medical intern. 
Main Characters
Edit
Ad blocker interference detected!
Wikia is a free-to-use site that makes money from advertising. We have a modified experience for viewers using ad blockers

Wikia is not accessible if you've made further modifications. Remove the custom ad blocker rule(s) and the page will load as expected.